About Tammy Webber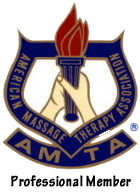 While many people think of massage therapy as relaxation, it can be so much more. The therapeutic benefits of massage provide a natural, non-invasive way to heal the body from a variety of ailments, from pulled muscles to sinus problems, from fibromyalgia to frozen shoulder syndrome.
Tammy Webber, Licensed Massage Therapist, has been helping people in the Huntington, WV, through massage therapy for more than 10 years.
She received her training from Mountain State School of Massage. Tammy is licensed from the American Massage Therapy Association and constantly strives to expand her skills through ongoing educational opportunities. She is also licensed by the state of West Virginia.
Tammy regularly continues her education with top notch classes and training sessions offered by the best instructors in massage therapy. All of her classes are hands-on, giving her the skills and experience to best serve her customers.